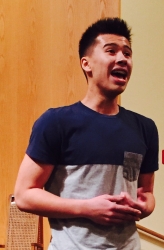 Bravo Academy places the spotlight on one of our students each month to showcase their amazing work and successes. Introducing Jamie Graham, our February Student Spotlight! Jamie has been at Bravo Academy for 6 years, participating in vocal lessons with Melissa Bencic, and performing as part of our Troupe programs. Let's hear what he has to say!
Hi Jamie!
How old are you?
16
How long have you been training at Bravo Academy?
Six years, I'm pretty sure. Jeez that's more than a third of my life…
What programs are you involved in here (private lessons, Troupe, etc)?
I'm doing private lessons with Melissa Bencic, and I've been a part of Teen and Youth troupes throughout the years. Currently, I'm taking a break to focus on music.
Do you have any special skills?
I'm a songwriter.
I like Pyschology.
I make mugs.
What is your favourite show you have performed in at Bravo Academy, and why?
Into the Woods, I think. It was my first year officially in Teen Troupe and I really liked both the process and the performances. A lot of friendships were made and that show is kind of a fuzzy nostalgic memory now.
What is your favourite musical (it's ok if it's a tie between a few)?
Company or Sunday in the Park with George.
Who is your favourite Broadway performer?
My main man Raul E. (he's talking about the fantastic Raul Esparza!)
If you could play any role in in any musical in the world, what would it be?
Bobby in Company.
Can you tell us a funny story of things that have happened onstage or backstage at a Bravo Academy show?
Okay so I was a part of the "children's chorus" in Christmas Carol a few years back, and I was a prepubescent little Jamie with a bowl cut. This was the first time I had been a part of a Teen Troupe show. We were in dress rehearsal and I think we were somewhere in the middle of the show, and I'm backstage holding a pencil trying to write something down on my cue sheet. I dropped my pencil, and it was really dark backstage so I rummaged around on the ground trying to find it. Being the clumsy little fetus I was, I accidentally bumped into the smoke machine and smoke poured out onto the stage, setting off the fire alarm. The entire cast stopped the dress, evacuated out into the parking lot, and sang A Christmas Carol to the firemen who arrived. It was very cold and we were all in costume out on the street and it was my fault! Embarrassing 😛
Do you have any role models?
Joni Mitchell.
My mom.
Do you have any advice for aspiring young performers like yourself?
Do art. DO it DO it DO it as long as you love it! I feel like this could turn into a giant yolo speech so I'm not going to let it. But let's get honest. Best case scenario, you probably only get 70-90 years alive on this planet. Maybe this will change in the future, but still it's a fixed amount of years. Don't waste them doing what other people think you should do. Don't exist for other people. Live for yourself. Create things. Spread love. Be a kind, dedicated, present and generous artist and you'll go far.