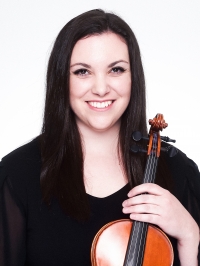 Each month, Bravo Academy will be placing the spotlight on one of our amazing Teachers so that you can get to know a little bit about them! Our October Spotlight features our Violin Teacher, Terri Croft. Read on to learn more about Terri and her special skills. Click here to view a fantastic video of Terri in action! Be sure to visit Terri at Bravo Academy on Saturdays!
Hi Terri!
Where are you from? I'm from Riverview, New Brunswick, originally!
At what age did you start playing music? I started on the piano in the Music for Young Children program when I was 4, but I knew fairly early on that the violin was what I wanted. I started in old-time fiddle lessons at 7, and classical violin lessons at 8. 
How long have you been working at Bravo Academy? This is my second year at Bravo and I love it!
Do you use a specific method when teaching? I have training in the Suzuki method, and I use some elements of it in my teaching, but I believe that every kid is unique and should be taught in the way they learn best. The further you go in music the more you discover that there's no one way of teaching or playing that works for everyone, and as a teacher especially, I believe in adapting to the student rather than vice versa.
As a teacher, what do you feel is your unique contribution to students? The ability to listen. I don't just aim to teach the violin, I aim to teach music, which is a highly personal art form. Some teachers will teach you where to put your bow, and how to play spiccato, etc., but if a super-talented student gets stage fright and the bow gets audibly shaky in the moment of performance, it's "sorry kid, you're on your own. Better luck next time!" I'm not afraid to sit down and talk it through with the student, practice some breathing techniques, put on funny glasses/hats, whatever it takes!
Do you have any role models (musicians or other)? JK Rowling tops the list! I'm in awe of her story, and her amazing Harry Potter series. Musically, I've always looked up to the people that valued being great human beings as much as being great musicians. My former teachers, Paul Kantor, Jaime Laredo, and Barry Shiffman spring immediately to mind.
Do you have any advice for aspiring young musicians? Music should be freeing, expressive, and rewarding. It's not always a walk in the park, but it should always be fun. If it's not, carefully examine what's getting in the way of you having fun and find a way to change it! The enjoyment of music is the most important thing to hang onto.
Here at Bravo Academy, we love musicals. What is your favourite musical? It's between The Sound of Music, The Phantom of the Opera, and Hello Dolly! 
What is your favourite piece of music to play and why? Shostakovich's E minor Piano Trio (No. 2). It's basically an emotional time capsule which captures what it was like to live in a totalitarian regime. It's powerful, incredibly moving, very challenging and uses my favorite ensemble grouping (piano-cello-violin). Only music could provide such an empathic experience.
What days can we catch you at Bravo Academy (i.e. what days do you teach)? I teach on Saturdays!