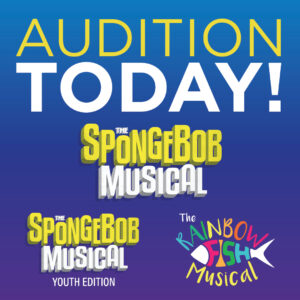 Join us for an underwater adventure this spring, with The Rainbow Fish Musical (Junior Troupe), The Spongebob Musical Youth Edition (Youth, Intermediate, Senior Troupes), and The Spongebob Musical (Advanced Teen Troupe)!
We are accepting submissions for our Spring 2023 Season on an ongoing basis. We have limited spaces, and spots are filled as we receive audition submissions. You can learn more about our Troupes here.
Audition requirements can be found below. Please feel free to reach out to admin@bravoacademy.ca with any questions!
Students auditioning for Troupe are required to prepare the following:
Ages 8-11
1 music theatre song (16-32 bars, age-appropriate, with accompaniment/karaoke track)
1 monologue (30 seconds or less, any style)
Memorization not required
Ages 12+
2 songs (16-32 bars, age-appropriate, with accompaniment/karaoke track). One piece ideally is from a contemporary musical and the second piece can be from another musical or a pop/rock song.
1 monologue (60 seconds or less, any style)
Memorization not required
All videos must be uploaded as an unlisted YouTube video.
New students must also provide the following, via the booking form:
Headshot (or any clear photo of your face)
Resume OR completed training/performance history (see audition form)
Artist statement: why do you want to participate in this program?
If you have any questions about the auditions, requirements, audition form, or the Troupe program in general, please contact us at admin@bravoacademy.ca.
Pick something familiar and easy to learn - a song or monologue you've already learned for a play or recital is a great choice! Otherwise, think favourite movies or musicals.
Make sure your piece is age-appropriate, both in content and vocal range. For example, a song like "Let It Go" from Frozen is written for an adult woman to sing and is challenging for a young girl to sing well.
Try to have your piece fully memorized; this helps so much with your confidence!
Practice your song in advance with a live accompanist or a track
Do a mock audition with a family member, friend, or teacher so you can get used to performing in front of another person.
Remember that the audition panel is rooting for you to succeed! Nerves are natural before an audition, but there's no need to be intimidated. Through the audition process, we're hoping to see a little of what makes you special, and what unique qualities you will bring to our program.
Need Help? No problem! Contact us to book  an audition coaching and our team will help you select pieces and prepare your submission.
Plan to arrive ten minutes before your scheduled audition time in case of traffic or delays. If you can, warm up your voice in the car on the way. You'll need about five minutes before your audition to complete an information sheet.
Bring your sheet music, hole-punched and double-sided, in a binder for the accompanist. You'll get both back after your audition!
Wear something comfortable, clean, and professional; pick an outfit that makes you feel confident!
Introduce yourself when you enter, and bring all your materials with you: headshot and resume, completed audition form, and sheet music.
Make sure to film in a well-lit area, and to shoot your self-tape in a medium or wide shot.
Please note! These are only suggestions to get you started; students can select any song or monologue they choose and are not restricted to this list!