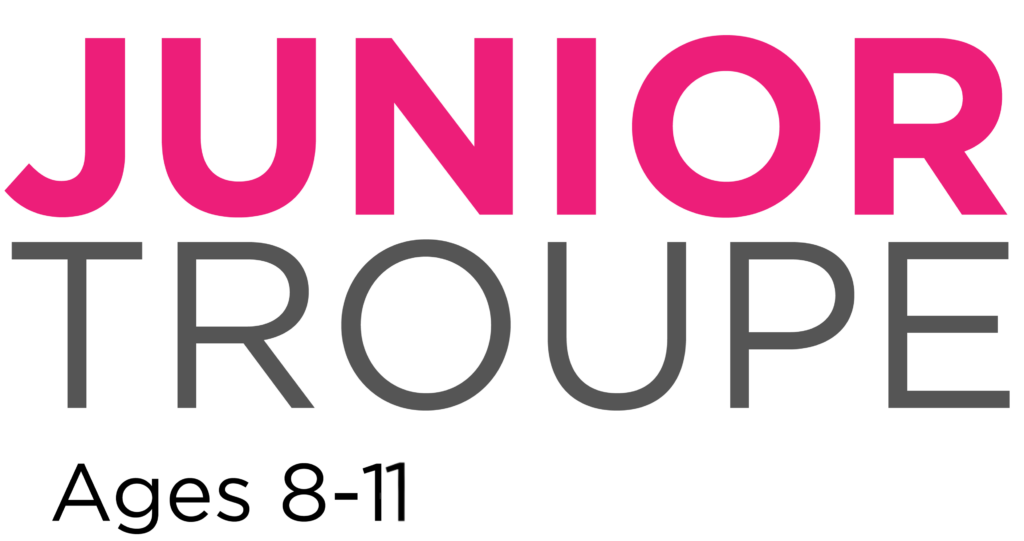 Bravo Academy's Advanced Musical Theatre Troupe Program is committed to providing the HIGHEST QUALITY and INNOVATIVE performing arts training. Our mission is to inspire ARTISTS, create MUSIC and help students realize their DREAMS!  
Musical theatre encourages children to use their IMAGINATION, work as a TEAM, develop COMMUNICATION skills and build SELF-CONFIDENCE. We are committed to providing an inclusive environment, allowing students to explore their passion and develop their skills. 
Junior Troupe is a full year experience for young artists ages 8-10. Students work with industry professionals and experienced theatre educators to receive outstanding musical theatre training and produce high-quality performances. From September to November, the focus is on skill development (singing, acting, dance and audition techniques) culminating in a produced musical theatre showcase in November. Following the showcase, students will be cast in a role and begin rehearsals for a full-length junior musical (approx. 60-75min). The final performance will take place in May complete with sets, props, lights, and costumes. All performances take place at Meridian Arts Centre Studio Theatre. Past productions have included musicals such as Beauty and the Beast Jr., James and The Giant Peach Jr. and many more.
Junior Troupe is the perfect program for a young performer who has discovered a love and interest in musical theatre, is ready for a challenge and is excited to perform a role in a fully produced musical. Admission to the program is by audition only.  No prior experience is required.
Click here to learn more about our Advanced Troupe Musical Theatre Program.
Visit our Photo Gallery and Video Gallery to view past productions.
Entrance into the Troupe Program
While the audition deadline has passed, there are limited spots remaining in select Troupes and we are continuing to accept auditions on a rolling basis. We encourage you to submit an audition ASAP!
Audition Requirements:
1 musical  theatre song (16-32 bars, age-appropriate, with accompaniment/karaoke track)

1 monologue (30 seconds or less, any style)
All of our Troupe programs are audition-based. Troupe auditions are held annually in April/May.  If spots remain following the deadline, submissions are accepted until all troupes are full. All students accepted into a Troupe will be cast in a role. We limit the number of students we accept based on the number of roles available in the musicals we are producing. Students are not required to have past musical theatre experience to audition for a Troupe.
Visit our Troupe Audition page to learn more about auditions and how to submit. 
Role Placement
Junior Troupe is a full year program with two distinct performances: a showcase in November, followed by a fully produced musical in the spring.  All Junior Troupe students will be performing in both shows.  Following the showcase in November, students will audition for their role(s) for the spring production. Audition material will be shared a minimum of three weeks in advance and will be worked on with the students in class as part of learning audition techniques. All casting decisions are made by the Artistic Team (Director, Music Director and Choreographer). Much time and careful consideration is taken to ensure that students are cast in a suitable role(s) that are within their vocal range and are dramatically appropriate. Each show is unique, and has different vocal, dance and dramatic demands.
Troupe productions are carefully chosen in order to provide as many roles as possible. Principle roles are double-cast whenever possible (meaning two students share the same role and alternate performances).
Rehearsal Schedule
Weekly Rehearsals: Mondays 5:00-6:30pm
Additional Rehearsals: Approximately 5-6 additional rehearsals will be held on Sundays from 9:30-12:30pm throughout the year.
Start Date: September 11, 2023
Fall Showcase: Saturday, November 25, 2023 
Tech & Dress Rehearsals: April 2024
Spring Show: April 2024
Students are required to attend all Monday rehearsals.

Student call times will fluctuate on Sundays pending class needs. Eg. Students may be called for an entire Sunday rehearsal time or may not be called at all.

Rehearsals details are scheduled in advance, and are posted on Students Corner. 

Fall Showcase: November 26th,  2023
Spring Show: April 2024
All performances and tech/dress rehearsals will take place at  Meridian Arts Centre Studio Theatre.
Students will see their show come together with full lights, microphones, set, costumes, and hair and make-up. We are pleased to work with a team of professional designers, including many Dora Award-winning artists. 
The spring musical will be announced and shared with students in October. We take time to select an appropriate musical that will appropriately feature the students.
Tickets go on sale via Ticketmaster in collaboration with Meridian Arts Centre approximately 3-4 weeks before opening.
We provide:
Troupe Orientation Night

Show Rights

Scripts

Students Corner

Rehearsals in our fully accessible, custom-built facility

Artistic Team: Director, Choreographer, and Musical Director

Production Manager

Professional Designers: Set and Props, Sound, L

ighting,

Costume,

Hair and Make-up

Stage Management Team

Theatre Technicians

Set

Props

Microphones

Costumes*

Front-of-House Team

Performances held at a professional theatre

Professional Photos

Archival Video Licensing Rights when available**
Students Corner: The rehearsal schedule is overseen by a full-time Production Stage Manager and posted on Student's Corner, our password-protected webpage just for Troupe students. Student's Corner is where you'll find not only detailed rehearsal schedules, but also choreo videos and music tracks to help you practice at home.

Team: Bravo Academy is  pleased to work with a team of professional designers and teaching artists, including many Dora Award-winning artists and those who have worked on major stages such as on Broadway and the Stratford Festival. It takes many incredible people to put on one of our shows and we are grateful to have an amazing team that is dedicated to providing and incredible experience.

Rehearsal Space: All Troupe rehearsals are held at our fully accessible and custom-built facility, in the Zlotnik Studio Theatre, which offers ample space for staging and choreography.
*We provide major costume elements. Students are responsible for footwear and supplementary items, as required and as outlined in advance of performances. 
**An additional fee is charged for those that would like to order an archival video when we are permitted by the licensing house to film.
All Troupe programs run at an advanced level. In order to maintain a high quality program students are expected to:
Attend all rehearsals

Arrive early with appropriate clothing and footwear

Have lines memorized before each staging rehearsal

Have music prepared and memorized for each choreography and staging rehearsal

Review staging, choreography and/or music before each rehearsal

Participate with enthusiasm, positivity, and an eagerness to learn

Respect fellow students and instructors throughout the rehearsal by quietly observing when not actively rehearsing

Leave cell phones and other distracting devices in their bags during rehearsal time (unless given specific permission to record)
Annual Tuition: $2,065 + HST
Annual Registration Fee: $40 + HST per. student, maximum $60 fee per family
Tuition is paid in two installments:
Payment 1: Upon acceptance to the program
Payment 2: November 1st
Tuition includes professional photos of each show.  


Bravo Academy is a proud partner of the Arts Access Fund providing opportunities and support for those who otherwise would not be able to participate in our program. Students who need financial assistance in the form of a bursary or scholarship are encouraged to apply after acceptance to the program. 
To view Advanced Troupe Policies including withdrawal, please view our Student Policies.

If you would like to stay up-to-date on what we're up to in our Troupe program, join our mailing list. 
If you have specific questions about the program, get in touch.