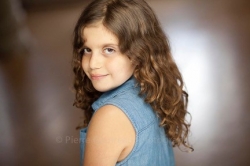 Each month, Bravo Academy will be placing the spotlight on one of our students to showcase their amazing work and successes. This month, please welcome Aviv Cohen to the Spotlight! Aviv has been a student of Bravo Academy for 5 years. She is in Youth Troupe and studying voice with Melissa Bencic. Currently, she can be seen in Mary Poppins at the Lower Ossington Theatre and Ragtime with Etobicoke Musical Productions, and upcoming she can be seen in Villette with Amicus Productions. Aviv was awarded a Kiwanis Club of Toronto Foundation Scholarship in Musical Theatre. When not performing, Aviv can be found swimming, biking, reading, skiing, playing the piano, and annoying her siblings!
Hi Aviv!
How old are you?  I am 9 years old and am in grade 4.
How long have you been training at Bravo Academy?  My first show at Bravo was when I was 4 years old (I was Grumio in Babes in Toyland).
What programs are you involved in here?  I am currently taking private voice lessons with Melissa Bencic and am part of the Musical Theatre Youth Troupe.
Do you have any special skills? I am able to imitate many accents when I speak (British, French, Russian, etc.) I think I am good at this because I speak a number of languages and also many people in my life speak with strong accents.
What is your favourite show you have performed in at Bravo Academy, and why? Little Mermaid because the kids in the cast were fantastic and Amelia the musical director made it so fun.  Amelia opened my eyes to how I can express myself through theatre.
What is your favourite musical? Matilda, Into the Woods and Les Miserables.
Who is your favourite Broadway performer? Neil Patrick Harris and Anna Kendrick.
If you could play any role in in any musical in the world, what would it be? Cinderella in Into the Woods.
Can you tell us a funny story of things that have happened onstage or backstage of a show?  At one performance of Mary Poppins, I was doing a scene where I was in pajamas and socks without any shoes.  One of the other actors dropped a vase and it broke into pieces.  I stepped on one of the pieces of glass and it was stuck in my foot.  I tried not to cry but it hurt very much, so the tears came down slowly.  I was lucky since it was a scene where I was supposed to be sad.  The director later told me that it was my most realistic scene ever.
Do you have any role models? Anna Kendrick and my parents.
Do you have any advice for aspiring young performers like yourself?  I have 2 pieces of advice for young performers. First is that you need to practice, practice and practice in order to get things perfect.  Always listen to your coaches and directors and keep at it.  If you love it, it isn't hard.  Second, never be discouraged.  If you get a part or not, it usually does not depend just on your performance.  You may not be the right age, height or " look" that the director is looking for. Keep at it.