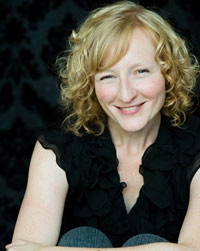 Each month, Bravo Academy will be placing the spotlight on one of our amazing Teachers so that you can get to know a little bit about them! Our February Spotlight features our wonderful Voice, Beginner Piano and Alexander Technique teacher, Alison Jane Taylor. Read on to learn more about Alison and her special skills, and be sure to check out her biography. Be sure to visit Alison at Bravo Academy on Wednesdays and Saturdays!
Hi Alison! Where are you from?
I was born in London, ON.
At what age did you start playing music?
As the story goes (i.e.: what my mom tells me), my musical career started when I toddled up to musician Glenn Bennett while he was playing a gig at a restaurant. I sat right down beside him on the piano bench and proceeded to play The First Noel. It was the middle of July. It was my birthday. I was four years old. After that, I started weekly piano lessons and I've been hooked every since.
How long have you been working at Bravo Academy?
Since September 2011.
Do you use a specific method when teaching?
My teaching relies on a synthesis of many of the methods that helped me to learn over the years. I use the Kodaly solfège and hand sign system in both singing and piano. Much of my work with young children and even adults is influenced by Orff Schulwerk: incorporating movement and play into music-learning.
As a teacher, what do you feel is your unique contribution to students?
As a certified Alexander Technique teacher, I believe strongly that integration of new information is most successful when the whole person is involved in learning: mind and body. For this type of learning to be able to happen, a safe environment built on mutual respect is key. Because of my Alexander influence, much attention is paid to body-awareness and releasing unwanted tension in lessons.
Do you have any role models (musicians or other)?
I have been lucky enough to have worked with some amazing teachers over my career, and I am still studying with some of them today. My first piano/voice teacher Mary-Lou Phoenix-Sheeler was a winning combination of strict and nurturing, and she pushed me to be better every week and wouldn't let me quit. t see her influence in my teaching style every day. My university choral director and mentor Jennifer Moir opened my eyes to magical musical moments through her whole-body approach to teaching and singing. She inspired me to explore this approach by attending the amazing VoiceCare Network myself to learn more about "human-compatible learning."
Do you have any advice for aspiring young musicians?
Persist, persist, persist. Don't give up when things get more difficult – lean in. Allow yourself to go wrong – it's how we learn. Perfection doesn't exist so stop pursuing it. Accept and embrace your faults. Trust yourself.
Here at Bravo Academy, we love musicals. What is your favourite musical (it's ok if it's a tie between a few)?
ALL OF THEM. I saw Cats when I was 5-years-old and it changed my life (at the time I wanted to BE a cat). As a teen, I became obsessed with RENT and I can still sing through the entire show from memory. I loved Title of Show for being a "meta" musical (a show about a show about a show, etc.), and because it's hilarious and smart. As a classical musician, I can't not mention opera here (it's why musicals exist!). Last year I learned the role of Gilda in Verdi's Rigoletto – that opera holds a very special place in my heart now.
What is your favourite piece of music to play and why?
When I was 15 I learned Chopin's "Raindrop Prelude." I remember playing it over and over for hours. I can still play this piece from memory today, and it still gives me shivers. Since I'm primarily a singer now, I'll add that my go-to aria is "Caro nome" from Verdi's Rigoletto – it's showy, youthful, and fun, which is why I love to sing it.
What days do you teach at Bravo Academy?
I teach music every day of the week all over the city, and I'm at Bravo Wednesdays and Saturdays.
Be sure to visit Alison at Bravo Academy, and email admin to book a FREE trial lesson with her!